Instructional Design Project Plan
Istation provides K-12 reading assessments and instruction. Istation Reading consists of an interactive, computer-based program as well as a comprehensive series of teacher-directed lessons (Istation, 2012). Currently in development is Timeless Tales with Paige Turner, an interdisciplinary reading intervention designed for struggling students in grades 6-12.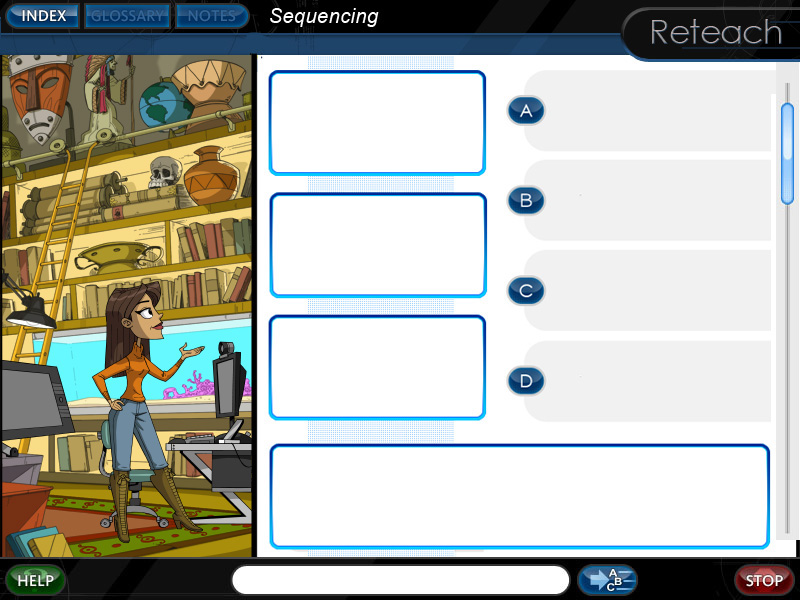 Timeless Tales with Paige Turner is designed to support student achievement in reading and consists of ten units of instruction. Unit 1 has been delivered for production. Unit 2 contains two reading comprehension lessons, a word analysis and vocabulary lesson cycle, and a selection of leveled reading passages tied to writing prompts. Lesson 2.1A targets the skill of identifying plot elements in fiction texts. Lesson 2.1B targets the higher-level skill of analyzing symbolism. Instruction is delivered online, in an animated, interactive format, and teaches students to follow metacognitive processes to master the targeted skills.
Stakeholders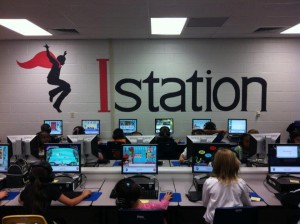 Stakeholders for the Unit 2 project include, but are not limited to: Istation executive team members, Istation board members, curriculum team members, content writers, the Timeless Tales senior curriculum designer and project manager, art and animation team members, engineers, interface designers, programmers, sales team members, training and support team members, school administrators purchasing the program for their schools, students using the program, teachers of students using the program, and parents of students using the program.
Project Plan Details
The project plan includes the instructional design, development, and delivery of Unit 2, from content and text to instructional dialogue and scripts to art, interface and interactivity, data collection and reporting, to release and delivery to schools. The currently established timeline for delivery of the portion of the project due from the curriculum team is sixteen weeks, beginning in April 2013.
Project Scope
Unit 2 of Timeless Tales is divided into two lessons: Lesson 2.1A and Lesson 2.1B. Each lesson targets one reading comprehension skill and is divided into the following segments:
Four-Square Academic Terms – a systematic, interactive method for learning new academic terms
Didja Ninja Graphic Novel Sequence – an animated, interactive teaching segment in which the academic terms are used in an authentic context
Introduction/Teach Segment – Paige Turner uses short practice passages and examples to demonstrate the comprehension skill.
Guided Practice Segment – Paige Turner presents a leveled reading passage and students interact to practice the reading comprehension skill.
Independent Practice Segment – Paige Turner presents a leveled reading passage and students answer multiple choice questions to demonstrate whether they have mastered the comprehension skill.
World of Wonders Self-Selected Reading and Writing Segment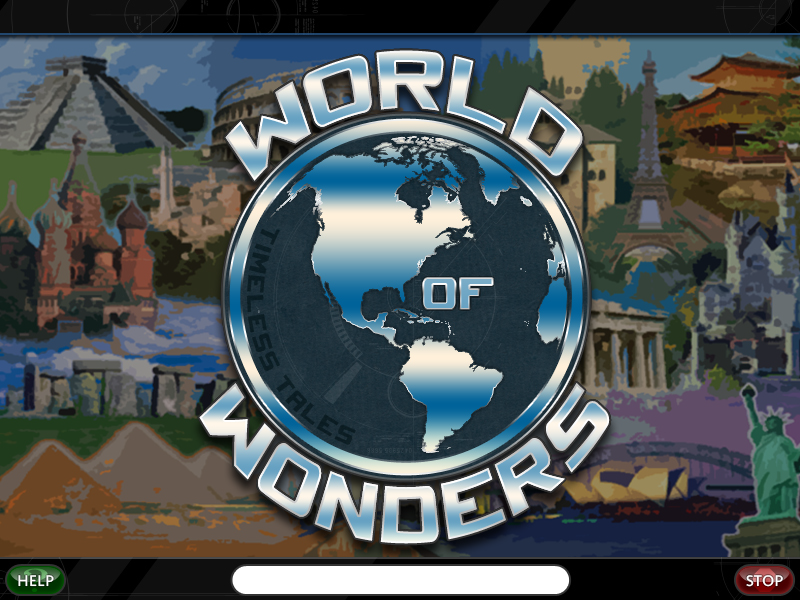 Lesson 2.1B also includes a word analysis skills activity, a spelling assessment, a vocabulary skills activity and assessment, and a text fluency mini-lesson. Lessons 2.1A and 2.1B also include comprehension reteach lessons for students who do not demonstrate mastery in the independent practice segments of the main comprehension cycles. Each reteach lesson includes an introduction/reteach segment, a guided practice, and an independent practice segment.
Milestones and Resources
In total, there are twenty instructional segments, or milestones, in each Timeless Tales unit. To support these twenty segments, there are fourteen leveled passages and approximately twenty additional pieces of instruction-supporting content.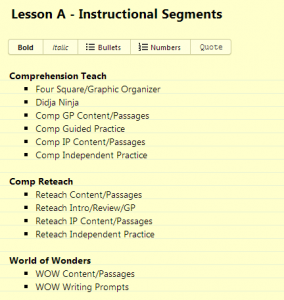 The deliverables for each segment are: reading content, instruction-supporting content, and recording scripts. Required resources for the total completion and release of this project extend beyond the curriculum department to the editing, art, animation, multimedia, quality assurance, and engineering departments. However, all required resources and associated costs described here are those exclusively of the curriculum department. For the purposes of this proposal, all deliverables are considered delivered upon exit from the curriculum department.
Project Plan Documents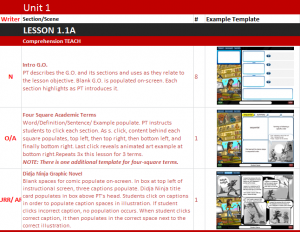 Timeless Tales Curriculum Process Tracking Chart – Contains full Work Breakdown Structure, task lists, timelines, persons responsible, and estimated delivery dates.
Timeless Tales Communication Plan
Timeless Tales Human Resources Plan
Timeless Tales Scope and Sequence – Academic plan/standards alignment plan for the entire program.
Timeless Tales Skills Matrix – Details reporting features and data collection points for the program.
Timeless Tales Templates and Sequence – Provides Istation multimedia team with a visual reference and a brief description of each program segment/component.
Basecamp Process Text Documents – Outline general processes and procedures for completing the project; mirror WBS and Timeless Tales Curriculum Process Tracking Sheet.
Resources for Instructional Design Project Managers
The following resources have been instrumental in the development of this project plan and may be useful to other instructional design project managers in the development of their own ISD project plans:
References
Chapman, A. (2008-2010). Bloom's Taxonomy – Learning Domains. Retrieved from Business Balls: http://www.businessballs.com/bloomstaxonomyoflearningdomains.htm
Churches, A. (2009). Bloom's Digital Taxonomy: It's not about the tools. It's about using the tools to facilitate learning. http://edorigami.wikispaces.com.
Common Core State Standards Initiative. (2013). English Language Arts Standards: Grade 6.
Cox, D. M. (2009). Project Management Skills for Instructional Designers. Bloomington, IN: iUniverse.
Hodell, C. (2011). ISD From the Ground Up: A No-Nonsense Approach to Instructional Design. Chelsea, MI: Sheridan Books, Inc.
Istation. (2011-2013). Timeless Tales with Paige Turner. (N. F. Masters, Editor) Retrieved from gen2oh.net: http://www.gen2oh.net/timelesstales
Istation. (2012). ISIP-AR. Retrieved from Istation: http://www.istation.com/Assessment/ISIPAdvancedReading
Istation. (2013, June). Istation Reading. Retrieved from Istation: http://www.istation.com/Curriculum/ReadingProgram
Texas Education Agency. (2009). Texas Essential Knowledge and Skills: English Language Arts and Reading (Figure 19). Austin, TX.
Texas Education Service Center, Region 20. (2012, September). Student SUCCESS in Reading. Retrieved from Texas Success: http://texassuccess.org/reading